About Us:

Here at Angel Cat Pet Adoptions animals are our top priority. We believe they all deserve a warm bed, good food, medical care and someone to love them for all their lives. We exist to prevent animals from being abused, tortured, ignored, starved, beaten, caged, hunted or exploited in any way.

We are an "all volunteer" organization and we work very hard on a daily basis to offer information and education to pet owners so they know the dangers of unknowingly giving up their animals over the internet to unscrupulous animal dealers posing as "nice people looking to adopt", who in turn sell the animals into medical laboratories and worse. Our adoptable animals live in foster homes and we make sure they are safe, happy and healthy while waiting for adoption. We also make humane decisions for the animals in our care to make sure they are taken care of in the best way possible.

~Read More~
•
Low cost spay/neuter referral program
(Click Here for our recommendations)
•
Assistance to seniors with pets, including transportation to and from vet's offices
•
Financial assistance for those pet owners on fixed incomes and for seniors
•
Networking with other local rescue organizations and individuals
•
Education on pet's nutritional needs
Adoptable Pets:

Our adoptable animals live in foster homes and we make sure they are safe, happy and healthy while waiting for adoption.

Visit our Available Pets page to see who's awaiting for their new home.


A 501(c)(3) Non-Profit Organization

Angel Cat Pet Adoptions © 2009 - 2016 All Rights Reserved

Website developed and maintained by Website to the Rescue
Ways to Help:

Adopting a homeless cat is a very rewarding experience. However, for those that are not able to adopt, there are still many more ways to help homeless cats and and make a difference in the overpopulation epidemic.

Visit our Ways to Help page for more information.
Foster Homes Needed:

If you love animals and want to find a way to help cats and dogs in transition, you just may be a great foster mom or dad.

~Click Here to learn more~
Visit our Education Page to learn more about the benefits of Spaying or Neutering your pets; our Feral Cat program; the truth about declawing; and much, much more Dixie and her sister Trixie came to us when when they were small kittens. They love to play together and get along with all of the kitties in their foster home. They are a three ring circus.

It is advised by veterinarians that it is best to adopt two kittens together. We have a two for one if the girls are adopted together.

CLICK HERE to READ MORE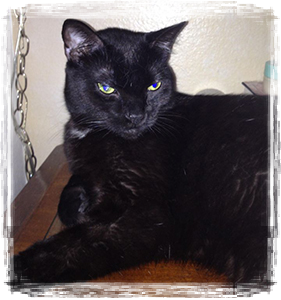 Featured Kitty of the Month:
Dixie & Trixie
Sponsor a Spay or Neuter:
With a small donation, you can make a difference in the homeless pet population.

Please consider making a donation of any amount ($5, $10, $20, or whatever).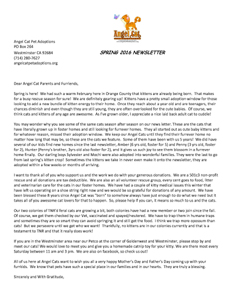 Donate Online using our secure PayPal account below, or you can also mail in a check by completing this attached Donation Form.
Please be sure to indicate that your donation is to Sponsor a Spay or Neuter.

YOU REALLY CAN MAKE A DIFFERENCE.
Trap, Spay & Release
If you are in need of a live trap to catch feral cats to get them neutered or spayed, the following company will rent you a trap.

Midway City Feed
14941 Jackson Street
Midway City, CA 92655
714-893-2613